Balranald Cottage has its origins as two adjoining humble dwellings for maids working at Balranald House, just across the road. Back then, those that lived here would have had little for themselves after they daily work at the big house. But today, after recent renovations that have fused the two cottages into one generous home, those that stay here have come to where they are free to enjoy themselves as they please!
Balranald comes from the Gaelic Baile Raghnail, or Ronald's village, and probably named after a medieval clansman. But by 1832, when Balranald House was completed in its current form the house and an extensive surrounding estate was the possession of a family known as the 'Improving MacDonalds'.
The improvements were those to agriculture, and it was this same period of optimism that gave the landscape many of its enduring characteristics: the big house itself, its walled garden, the stone-built barns and stores of the adjacent farm steading, the roads and drainage ditches and culverts.
Although then at the leading edge of agriculture, today Balranald is valued most for its small-scale traditional, non-intensive farming, which in large measure leaves the land to thrive according to the rhythms and means of nature, and is thus abundant with wildlife that occurs naturally, not according to man's bidding.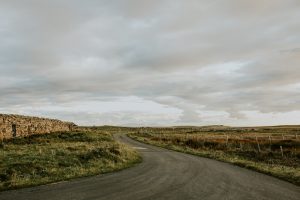 The single-track lane that passes the cottage starts at the island circular road just north of Bayhead, and by zigs and zags (following field boundaries and connecting houses) heads westwards, first to Balranald House and Cottage, and then skirts around the dry southern edge of Balranald Bog – a SSSI of importance for its wetland plants and rich insect life.
Here, in sight of the extensive sandy channels and islands of Loch Paiblesgarry and the Claddachs beyond, the lane turns west again, heading out to the fertile fields of the machair, close to the shore, and there it stops.
White sandy tracks branch off to serve houses and cottages, and at the end, a well-worn, much-loved track perfect for ambling, walking, jogging or cycling in peace. This track continues along the machair towards the headland of rocky shores, sandy beaches and machair grassland which makes up the RSPB's Balranald reserve.
Arts & Crafts
Hebridean Jewellery, Iochdar, South Uist

Hand-spinning studio, offering knitting/crocheting yarns from local Hebridean sheep, hand-spun natural-dyed wools and garments or other items made from these by knitting, crocheting, weaving or felting. Spinning tuition, including for beginners.
Communities
Stòras Uibhist
Website of the community-owned landlord of the islands of Benbecula, South Uist and Eriskay
Field Sports & Outdoor Activities
Travel
Flyebe
Information and on-line reservations for flights between the Outer Hebrides and the mainland, and inter-island flights too.